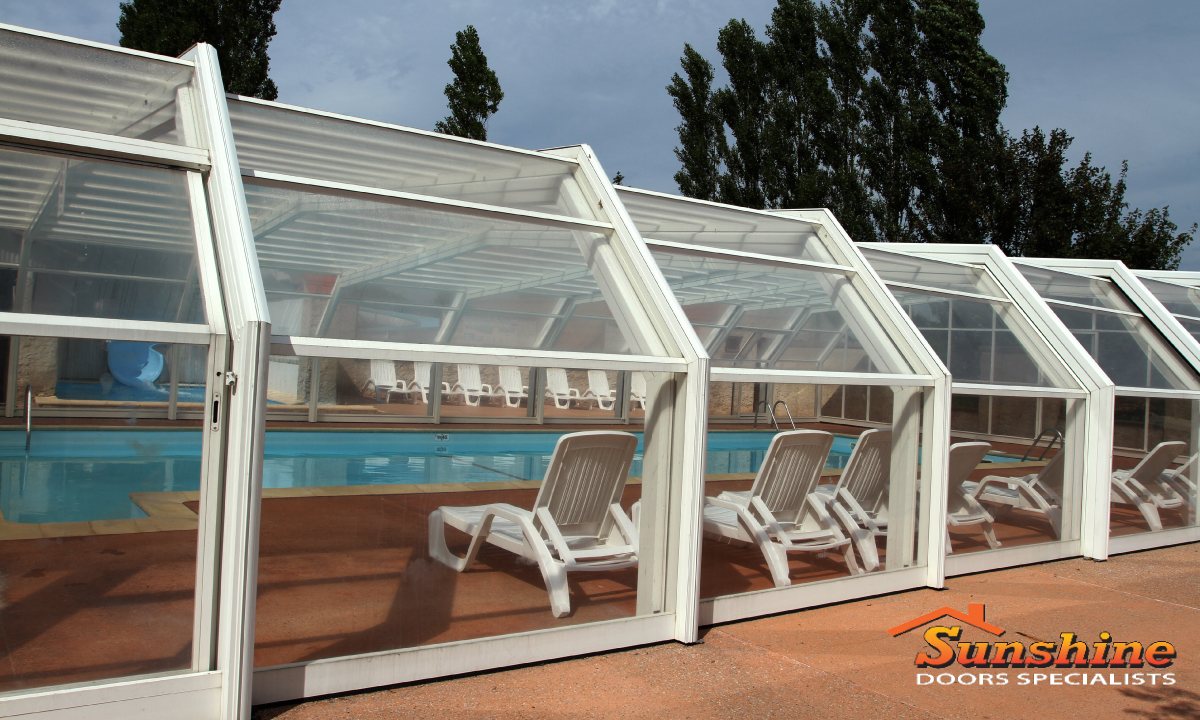 Home pools are a great way to enjoy the outdoors, stay healthy, and entertain guests. In Florida, where the summers are long and warm for most of the year, pools are a luxury many homeowners take advantage of.
Sunshine Doors Specialists can help you get the best out of your pool with a high-quality pool enclosure, making it suitable for usage all year round and stay safe while at it.
How Pool Enclosures Enhance Pool Safety
Our quality enclosures offer safety benefits for your pool in multiple ways, including:
Security: enclosures keep out uninvited guests including wildlife, insects, and human intruders. We can even extend your home security system to the enclosure for instant alerts when there is unauthorized access.
Animals like to swim too, but we can keep them away from your pool, avoiding unpleasant incidents such as critters who may bite, drown, or leave behind nasty reminders of their visit.
Child safety: pools naturally attract children looking for a cool dip in the water. But unattended access to a pool can result in tragedy. Sadly, many children drown in pools each year – most under the age of 5. Our enclosures offer enhanced safety for family members, relatives, and neighbors who may be tempted to jump into the pool without adult supervision. Our childproof locks keep the pool and children safe.
Health benefits: Our pool enclosures offer UV protection, reducing exposure to harmful radiation that can promote skin cancer. This allows family members to spend more time enjoying the pool without concern for skin damage from extended time under the sun.
Safety from weather conditions: strong winds can damage your pool. Adding a high-quality, durable enclosure not only enhances the appearance and extends the availability of the pool, but protects your investment from such weather damage.
Additional Benefits Provided by Pool Enclosures
Enclosures allow pool owners to get much more use and enjoyment from their investment.
Reduce cleaning time: enclosed pools are naturally less susceptible to objects such as leaves, trash, and other debris that can be carried in by the wind. Spend more time swimming and less time cleaning.
Temperature control: an enclosed pool will lose less heat during the night, making it more enjoyable in early morning hours. This can also reduce heating costs in colder seasons.
Chemicals and evaporation: with an enclosed pool, water will evaporate less than in the open air, which can also contribute to a lesser need for chemicals.
Availability: one of the primary benefits of our pool enclosures is its suitability to cooler weathers, rainy periods – anytime during the year. You don't need to close the pool during the offseason and reopen when the weather breaks. Even in Miami, there are times when unenclosed pools are simply not usable. With an enclosure, the pool is always open.
Privacy: enclosures ensure privacy from uninvited onlookers. Enjoy the calmness of your pool without other people in your personal space.
Improve Health: keep active all year with water activities such as water aerobics, lap swimming, and water weights. Reduce stress and improve circulation in your pool – in nearly all weather conditions.
Reduce risk – while pools offer great enjoyment for the entire family, they also increase liability for homeowners – hazards from slippery surfaces that can cause falls, swimming accidents, and injuries experienced by trespassers. Pool enclosures significantly reduce those risks.
Sunshine Doors Specialists – Your Miami Source for Pool Enclosures
As a provider of quality doors and pool enclosures in the Miami and Orlando areas since 2000, Sunshine Doors Specialists can help you choose the pool enclosure that meets all your needs. We'll work with you to provide the safety, appearance, and other benefits you expect from your investment.
Contact us today to get a quote for your attractive, high-quality pool enclosure from our experienced team. With Sunshine Doors Specialists on your job, you'll never need another contractor.