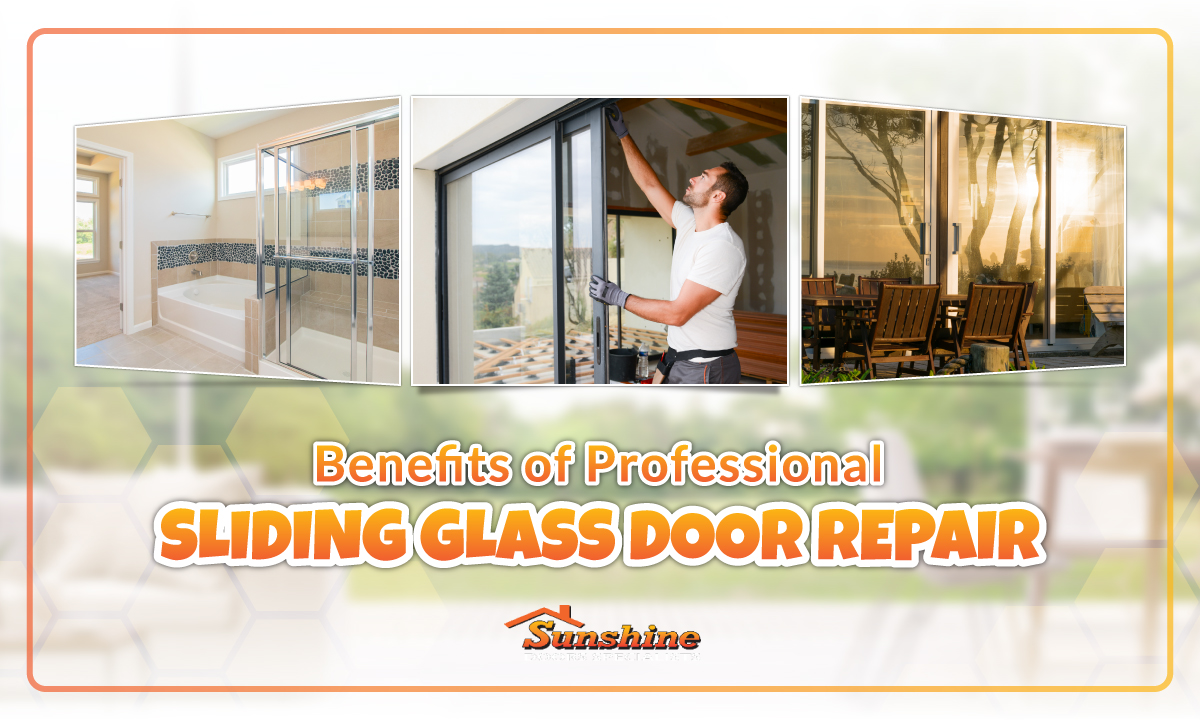 DIY projects are great, especially for those looking to expand their knowledge and skills in home maintenance and repair. When it comes to the big stuff, such as expert door repair and installation, we are firm believers that you should leave it to the professionals.
Installing or repairing a new door or sliding glass doors in your home can look easy enough. If you've had some experience in home repair, this may tempt you to give it a go. The thing is – looks can be extremely deceiving. When it comes to the entrances to your home, one small misstep can lead to a domino effect.
While there are plenty of smaller DIY door maintenance and repair projects that can be managed without an expert, leave the heavy lifting to the professionals.
5 Reasons Why You Need Expert Door Repair
Expert door repair may seem like an unnecessary cost factor when you are a seasoned DIY'er. Just because you think you can; doesn't mean you should. This is especially true when it comes to working with glass or sliding doors. Need a reason to help convince yourself that you should hire a professional? Here are our five top reasons why you need an expert door repair team to help you get the job done right.
1. Safety Precautions Taken for Your Safety and Ours
The first reason you need expert door repair is that safety should always be your top priority during any project. While you may think you have all your bases covered, there are always unexpected issues that pop up and could put your safety at risk. This can include anything from:
Equipment malfunction

Broken glass

Splintered wood/siding

Lifting heavy equipment

Breathing in dust or other harmful particles during the demolition process
Our team takes on all the dirty work. We make sure that we are not only practicing proper safety precautions for our own good, but we put your family's safety first. We do this by taking extra precautions, such as keeping the dirt and dust to a minimum and cleaning along the way.
2. Damage Prevention to Your Home and New Door
Demolition can be fun – which is why many people attempt to do home improvement projects on their own. While DIY shows such as My First Flip, Rehab Addict, and Yard Crashers are great for gathering information and ideas, it's important to understand that they are for entertainment.
What many of these shows don't show viewers is the damage that can be done during the renovation process. From busted flooring to destroyed siding, the damage can be costly to our clients. That's why it's best to have a professional team to handle these types of large projects.
We not only have the knowledge to prevent damage, we know what red flags to look for during the demo process. These red flags could include rotting wood or water damage. Red flag issues are things that can cost a family more money, and we know how to handle these damages without making matters worse.
3. Legal Matters Handled by Professionals
When it comes to door installation or repair, most people do not view it as a significant renovation project. However, depending on where you reside, these types of projects might require some attention to the law. These include a variety of different codes and standards that must be met during the installation or repair project. Unfortunately, many DIY'ers are not familiar with these codes and standards.
The good news is that our team at Sunshine Doors is made up of individuals that not only love what they do but that are professional, courteous, and background-checked. All our employees are up to date on the current codes and standards of the Miami area. Should additional permits be required, we've got your back. We handle all the technical stuff, ensuring that your project bucket hat will be handled right the first time. 
4. Warranty on Parts and Services
When consumers decide to try and attempt installation in the Miami area, they often go out, get the materials they deem essential, along with their new door, and get to work. However, what happens when something doesn't work out? What if your product gets delivered with a crack in the glass or similar damage? What if the product simply doesn't do the job that is promised?
When it comes to these types of projects, most products that are purchased by an individual have a very limited warranty. However, the consumer must prove that the damage wasn't done by them and was, in fact, a direct result of a defective product.
Should you decide to go to the expert door repair route, most companies provide clients with a more robust warranty program. Here at Sunshine Doors, we include a 2-year warranty on all products and services. This guarantees that our clients get only the best.
5. Top-Quality Work Done Right the First Time
Expert door repair in Miami and Orlando requires the right professional. A skilled DIY'er may think they have this type of project under control, but looks can be deceiving. While the project may seem to go swimmingly the first time around, one tiny error can lead to a waterfall of issues down the road.
Take this scenario. Should you miss a step in sealing off the door during the weatherproofing process, one small leak can result in flooding within the home. So, why risk further damage to your residence? Expert door repair and installation can help you avoid future headaches by ensuring the job gets done right the first time.
How Do I Know If I Need Expert Door Repair?
While homeowners can do some DIY door repair or maintenance, there are quite a few signs that will tell you whether or not you require expert door repair, including:
Doors that do not open/slide easily

Chips/cracks in glass windows/windowpanes

Leaks around the doors that allow in outside air/water

Damage to the screen doors

Higher utility bills due to damaged doors
If you're noticing any of these issues, we highly suggest you call in a team of professionals to assess the situation. We can then give you the recommended steps necessary to get your door either repaired or replaced promptly.
Expert Repair and Door Installation in Miami, FL
When it comes to our clients, we pride ourselves in offering only the best when it comes to expert door repair and installation. Whether it's for a residential unit or commercial setting, our team of professionals will work hard to ensure that all our client's needs are met and that the process is done right the first time around.
Contact Sunshine Doors Specialist today. Our team of professionals is more than happy to get any of your questions, comments, or concerns answered right away!